As you view our brochure, see our booth at a needlework show, or browse through this site, you are likely to get the impression that we enjoy birds. Well, "enjoy" may be an understatement!
We are Paula and Dan Minkebige. We live in the country, on twenty-one acres---part woods, part field---in central Wisconsin. We plan to plant the field with wildflowers and native grasses to attract insects and birds, and the woods---well, we'll just allow the woods to do what woods do! Scattered nest boxes provide homes for Tree Swallows and Eastern Bluebirds, and of course, the yard is full of feeders.
We had been serious bird watchers for quite a few years before we started our business. By serious, we mean buying all kinds of birding guides, subscribing to birding magazines, upgrading optics (buying new binoculars), and traveling with the express purpose of seeing birds. Maybe "obsessing" is the clinical term...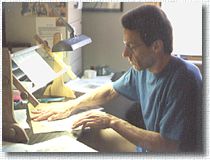 In the early 80's, Paula, who enjoyed cross stitch and had done several projects with birds, was looking for designs of American birds. Up until then, the only realistic designs available were of European birds. If there were a sketch of this moment, it would include a light bulb---an idea! All of Paula's art classes and all of our bird observation led to what is now Crossed Wing Collection. In the early 80's, interest in the natural world was growing steadily. People were becoming more aware of the birds in their own back yards, and a fair number of those people were stitchers. Our timing was pure luck, but we had found our niche!
Our first copyright was in 1984, and from the beginning our goal has been to produce the most realistic designs of birds possible. This is not always easy when working with squares and a limited palette of colors! There aren't a lot of straight lines in birds, and natural shading requires expanded color families. Many times we wished we had just one or two more shades to make smoother transitions from light to dark. But those are just challenges.
Crossed Wing Collection is not a Fortune 500 company, nor do we aspire to be. We are two people, Paula and Dan Minkebige, working out of our home. When you call Crossed Wing, you talk to us---well, occasionally the answering machine---but most of the time, us.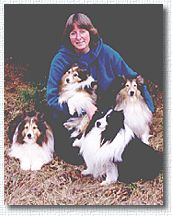 We share this place with 3 Shetland Sheepdogs, all rescues, a fat contented rabbit, and an assortment of finches, also rescues.
In the rare moments when we aren't designing, attending needlework trade shows, doing other business things, or catering to the canines, we like to garden, bike, jog, rollerblade, cross-country ski, snowshoe, and yes, birdwatch.
We do love what we do, and hope you enjoy stitching our designs as much as we enjoy creating them for you.
Paula and Dan